Circle BMW Holds Food Drive for Fulfill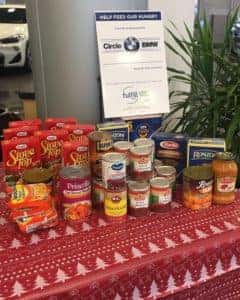 Circle BMW will collect non-perishable food in their retail store and hold an online virtual food drive to raise monetary donations throughout November and December to benefit Fulfill, formerly The FoodBank of Monmouth and Ocean Counties. Based in Neptune and Toms River, Fulfill's mission is to alleviate hunger and build food security in Monmouth and Ocean Counties, and to make sure that all people at all times have access to enough nutritious food to maintain an active and healthy life.
"We appreciate the support of Circle BMW and the public. The truth is we need your help. Fulfill serves 136,000 people in Monmouth and Ocean Counties who are food insecure, 50,000 of them are children. In fact, one out of ten people don't know where their next meal is coming from. Food and fund drives like this allow us to help our neighbors," said Fulfill CEO and President Kim Guadagno, the former Lieutenant Governor of New Jersey.
Circle BMW President, Tom DeFelice said, "We know the holiday season is a busy time and we wanted to offer the flexibility of allowing people to either drop off non-perishable food items at Circle BMW or make a financial contribution directly to Fulfill by going online to CircleBMW.com." He added, "Our employees, customers and Eatontown area residents have been extremely generous in the past and we hope they will continue to support our food drive and Fulfill's mission."
Food needed for the holiday season include the following:
Low Sodium Canned Vegetables: Green Beans, Corn, Mixed Vegetables, Yams
Canned Fruit in 100% Juice or Water
Canned Tuna or Chicken
Canned Soup, Broth or Meals (preferably with a pop-top)
Cranberry Sauce
Boxed Potatoes
Boxed Stuffing
Gravy
Pie Crust and Corn Bread Mixes
Whole Grain Cereals
Shelf Stable Milk
Note: Manual can openers are also greatly appreciated.
Donations may be dropped off at Circle BMW between 7:30 a.m. and 8:00 p.m. Monday through Thursday, 7:30 a.m. and 6:00 p.m. on Friday and 8:00 a.m. to 5:00 p.m. on Saturday. Circle BMW is located at 500 Route 36 East, Eatontown, N.J. 07724 (across from the N.J. Motor Vehicle Commission).
A member of the Feeding America network, the nation's largest domestic hunger relief organization, Fulfill offers a comprehensive approach that goes beyond providing food and helps those in need get to a place where they can get back on their feet permanently. Fulfill offers programs such as culinary training, tax relief assistance and affordable healthcare that help people become financially sound and self-sufficient.
For more information about Fulfill, call (732) 918-2600 or visit www.fulfillnj.org.